We're very proud to be featured in "The Bulletin" magazine of Hong Kong General Chamber of Commerce (HKGCC) 香港總商會. Thanks for the opportunity to share our vision and insights on #Innovation to Solve Industry Hurdles .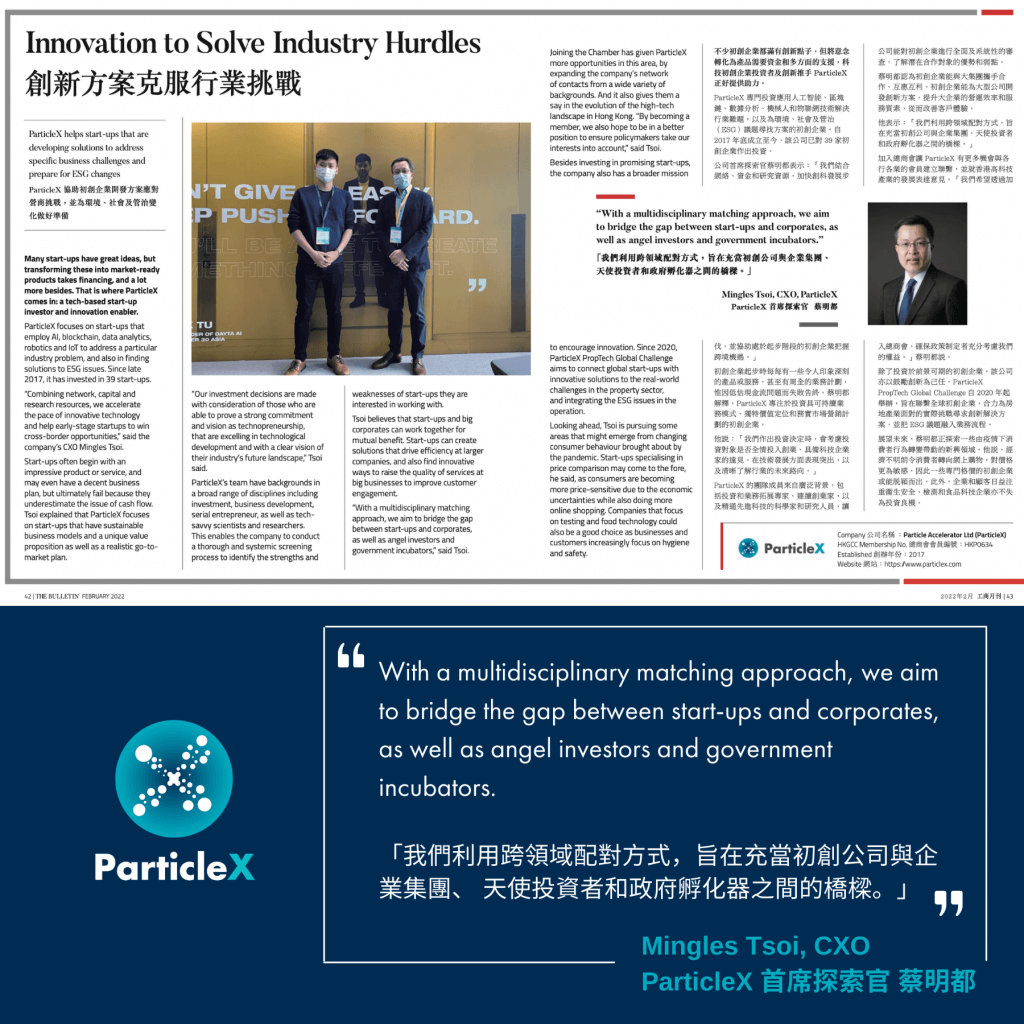 ParticleX helps start-ups that are developing solutions to address specific business challenges and prepare for ESG changes
Many start-ups have great ideas, but transforming these into market-ready products takes financing, and a lot more besides. That is where ParticleX comes in: a tech-based start-up investor and innovation enabler.
ParticleX focuses on start-ups that employ AI, blockchain, data analytics, robotics and IoT to address a particular industry problem, and also in finding solutions to ESG issues. Since late 2017, it has invested in 39 start-ups.
"Combining network, capital and research resources, we accelerate the pace of innovative technology and help early-stage startups to win cross-border opportunities," said the company's CXO Mingles Tsoi.
Start-ups often begin with an impressive product or service, and may even have a decent business plan, but ultimately fail because they underestimate the issue of cash flow. Tsoi explained that ParticleX focuses on start-ups that have sustainable business models and a unique value proposition as well as a realistic go-to- market plan.
"Our investment decisions are made with consideration of those who are able to prove a strong commitment and vision as technopreneurship,
that are excelling in technological development and with a clear vision of their industry's future landscape," Tsoi said.
ParticleX's team have backgrounds in a broad range of disciplines including investment, business development, serial entrepreneur, as well as tech- savvy scientists and researchers. This enables the company to conduct a thorough and systemic screening process to identify the strengths and weaknesses of start-ups they are interested in working with.
Tsoi believes that start-ups and big corporates can work together for mutual benefit. Start-ups can create solutions that drive efficiency at larger companies, and also find innovative ways to raise the quality of services at big businesses to improve customer engagement.
"With a multidisciplinary matching approach, we aim to bridge the gap between start-ups and corporates, as well as angel investors and government incubators," said Tsoi.
Joining the Chamber has given ParticleX more opportunities in this area, by expanding the company's network of contacts from a wide variety of backgrounds. And it also gives them a say in the evolution of the high-tech landscape in Hong Kong. "By becoming a member, we also hope to be in a better position to ensure policymakers take our interests into account," said Tsoi.
Besides investing in promising start-ups, the company also has a broader mission to encourage innovation. Since 2020, ParticleX PropTech Global Challenge aims to connect global start-ups with innovative solutions to the real-world challenges in the property sector, and integrating the ESG issues in the operation.
Looking ahead, Tsoi is pursuing some areas that might emerge from changing consumer behaviour brought about by the pandemic. Start-ups specialising in price comparison may come to the fore, he said, as consumers are becoming more price-sensitive due to the economic uncertainties while also doing more online shopping. Companies that focus on testing and food technology could also be a good choice as businesses and customers increasingly focus on hygiene and safety.
📣 Applications are now open for the Batch 2 of ParticleX PropTech Global Challenge 2022. The deadline to apply is 4th March, 2022.
Apply now: www.particlex.com/ppgc