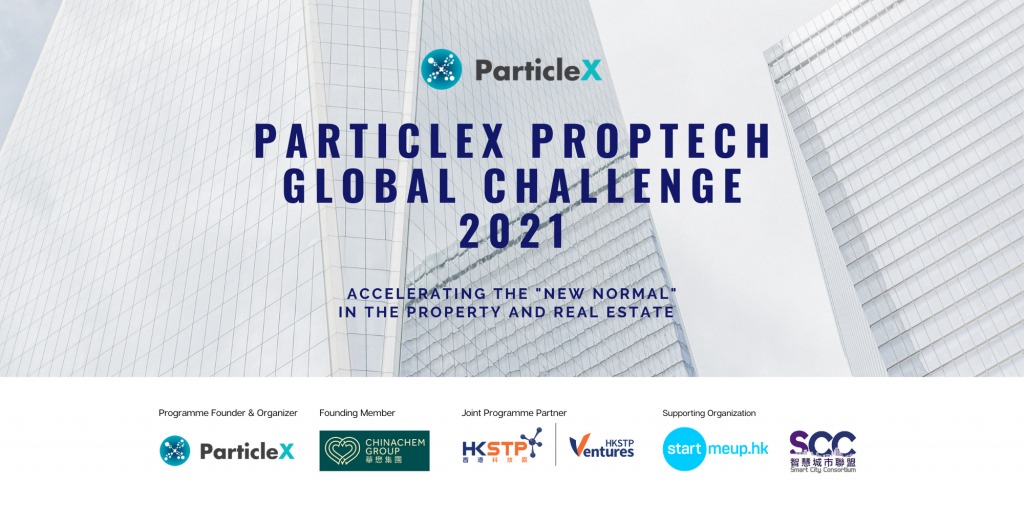 The 2nd round application is over, we have opened applications for the 3rd batch now!
With the aim of providing an agile and innovative process for Proptech startups to meet investors, corporate clients and government support resources within one programme and one process. ParticleX launched a new initiative, ParticleX PropTech Global Challenge 2020, partnership with the leading property developer, Chinachem Group and supported by Hong Kong Science and Technology Park (HKSTP), StartmeupHK and Smart City Consortium (SCC).

The 1st and 2nd batch of ParticleX Proptech Global Challenge 2020 received overwhelming responses: 18 countries and 70 applications were submitted, the quality of applications is striking, many of them are assessed as high quality. 

We are now opening the 3rd batch application! If you have a great proptech solution and want to raise funding and scale your business quickly, register now!

Key dates:

3rd batch application deadline: 5 Feb 2021 (Hong Kong Time)
Screening Interview: 22 Feb – 5 Mar 2021
Investment Committee Meeting : 12 Mar 2021
To learn more about the ParticleX PropTech Global Challenge 2020, visit: https://particlex.com/application/proptech-2020/
About Chinachem
Chinachem Group is a leading property developer in Hong Kong. Their history of success spans for 60 years. Chinachem diversified their business over the years and has long established a leading position in the industry, as well as the key foundation for its internationalisation. Today, the Group's business spans different areas, including residential, commercial, shopping malls and industrial buildings for sale or lease, as well as hotels for operation, and so on. The group has a solid foundation and constantly strives for improvement and is never satisfied with standing still. The best start-up teams might have an opportunity to be selected by Chinachem as one of the technology solution providers.