ParticleX Urbantech Global Challenge (PUGC) Opens for Registration Now
Leveraging Universities' Research Strength to Launch Breakthrough
Ignite Urban Technology – A Launch Towards Sustainable Innovation
(Hong Kong, 12 Oct 2023) Creating a sustainable future has become an unstoppable global trend. As a passionate advocate for empowering UrbanTech to contribute solutions, ParticleX hopes to leverage venture capital funding and cutting-edge technologies to address urban challenges. It has initiated the 2nd ParticleX UrbanTech Global Challenge (PUGC) to connect start-ups, corporates, angel investors and incubators from around the world. ParticleX kicked off the PUGC launch ceremony this afternoon, with the theme "Igniting Urban Innovation – A Launch Towards Sustainable Solutions". With a strong focus on sustainability, PUGC is dedicated to fostering collaborations and driving innovation, thereby creating a vibrant UrbanTech ecosystem.
The Covid-19 pandemic created challenges for foreign start-ups engaging Hong Kong enterprises due to travel restrictions inhibited outreach. Collaboration between foreign companies and domestic start-ups also faced obstacles. To address this, ParticleX launched the ParticleX PropTech Global Challenge (PPGC) in 2020 connecting property developers, construction firms, property management and other industrial users locally and globally with startups through a digital platform. This facilitated matching between corporates and suitable start-up products or solutions, while providing foreign start-ups with access to local corporate users and investors.
The Challenge returns, unlocking both financial and societal returns of start-ups
Seeing PPGC's success in supporting various users, ParticleX expanded its scope in 2022 with the inaugural PUGC. The PUGC is making a huge comeback this year, bringing together approximately 30 partner organizations and included participation from all Hong Kong university innovation departments for the first time, signaling aims to more holistically foster commercialization of academic research.
ParticleX functions beyond conventional notions of venture capital. It aspires to serve as the activation engine that advances ideas towards implementation, and as the catalyst driving urban progress. Mr. Mingles Tsoi, Chief eXploration Officer of ParticleX, stated that, "Our investment philosophy looks beyond simply financial returns. We believe that each unique innovation born out of a startup initiative possesses both investment value as well as social value and impact. Therefore, the 2023 PUGC encompasses six core UrbanTech categories aimed at shaping the sustainable and resilient cities worldwide."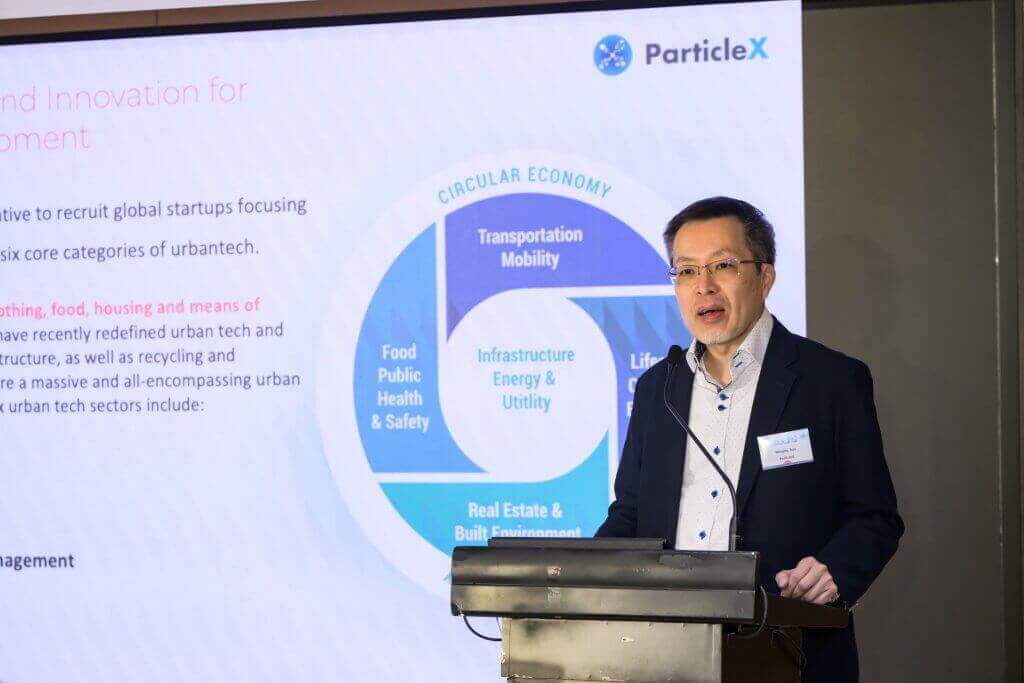 Regarding university collaboration this year, Mr. Tsoi added that, "ParticleX places special emphasis on top innovations emerging from academic institutions. While university R&D teams undoubtedly possess a wealth of promising technologies and concepts, they may lack the experience and resources needed to successfully commercialize ideas. Therefore, this edition of PUGC specially invited every innovation department across Hong Kong universities to participate. The goal is to facilitate more connections between academia and industry through providing testing grounds. By obtaining user feedback and real-world experience when applying their solutions, spin-offs from universities can refine ideas and move them closer to implementation. We are delighted to see the Hong Kong Government's implementation of the Research, Academic and Industry Sectors One-plus Scheme (RAISe+ Scheme) through generously funding universities' R&D projects and incentivizing matching investment from institutional investors, we believe the RAISe+ Scheme will boost the momentum of the technology community, igniting the path towards continued innovation."
Collaboration is the key to fostering a vibrant UrbanTech ecosystem
The 2023 PUGC kick-off ceremony was honored to host notable guests including Hon. Mr. Duncan Chiu, the Legislative Council member representing Technology and Innovation Constituency. Also in attendance was Mr. Aldous Mak, Chief Financial Officer of Hong Kong Science and Technology Parks Corporation, Ms. Jayne Chan, Head of StartmeupHK at InvestHK as well as partners and start-up founders from various sectors. The honorable guests conveyed their support for the development of UrbanTech start-ups and their contributions. A panel discussion was also held around "UrbanTech trends and challenges".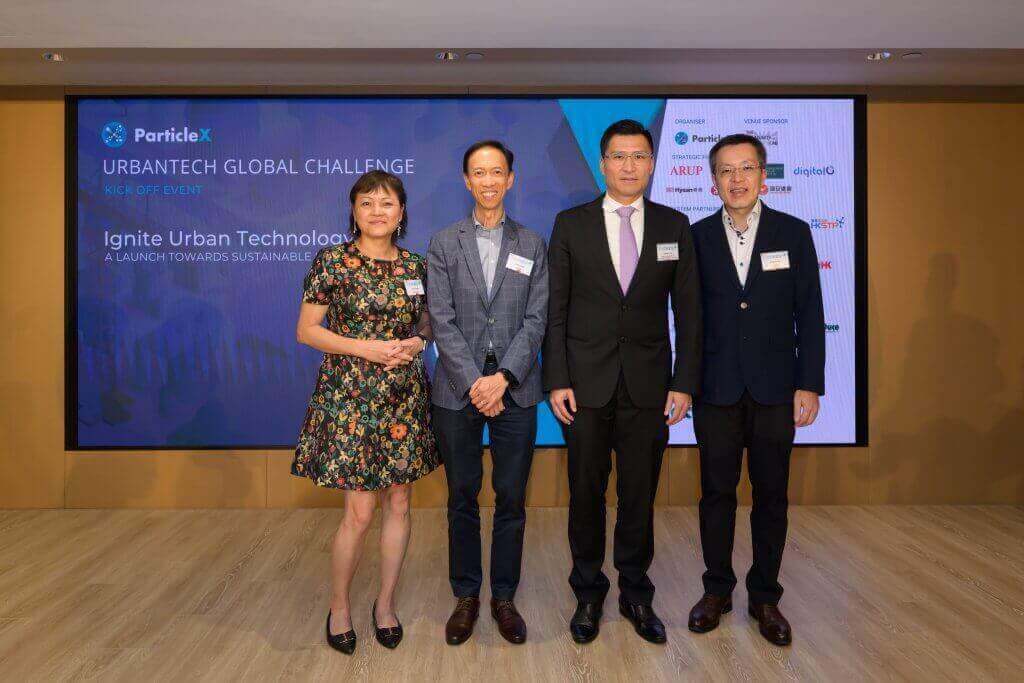 Hon. Mr. Duncan Chiu stated, "ParticleX has consistently focused on early-stage investing, supporting many local start-ups, as well as university-originated entrepreneurs spin-offs from universities to enter various markets, including Mainland China. Such kind of professional investor is crucial for Hong Kong's I&T ecosystem to flourish, as they provide capital along with industry connections and business advice that fuel the growth of start-ups. The PUCG's emphasis on the commercialization of UrbanTech injects fresh impetus to Hong Kong's smart city development. I wish the Challenge every success, and hope it will assist more companies in scaling up to the next generation of unicorns."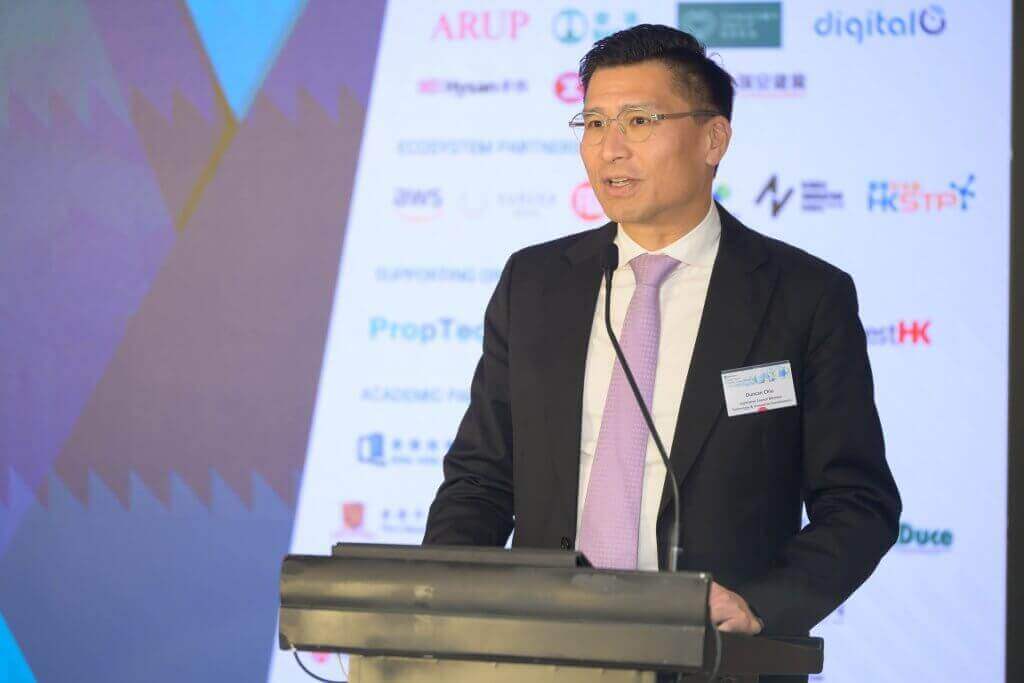 Mr. Aldous Mak said, "We are excited to support ParticleX at this event, to discover more innovative UrbanTech solutions and accelerate technology adoptions, as well as to build Hong Kong as a sustainable smart city through this Challenge. HKSTP is committed to providing a wide range of incubation programmes to startups at different stages, from world-class infrastructure, business development support to funding. We look forward to welcoming more startups and talents from the new generation to jointly strengthen Hong Kong's innovation and technology ecosystem."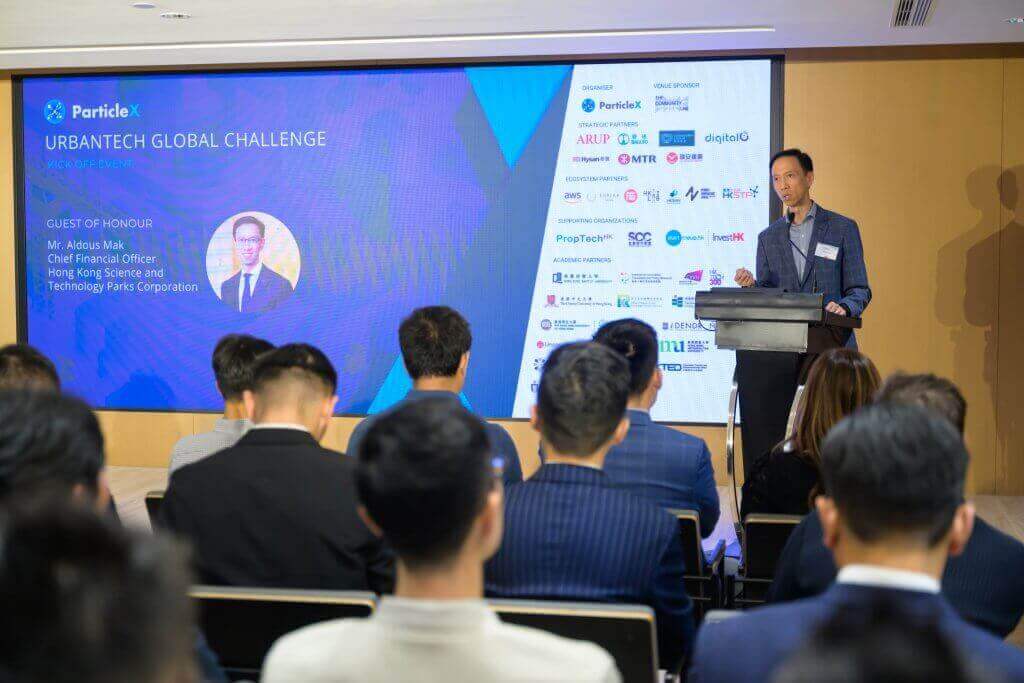 Ms. Jayne Chan mentioned, "When it comes to companies combatting climate change and creating a more sustainable world, technology is a gamechanger. It can help companies reduce emissions by improving efficiency, switching to cleaner alternatives, and recycling materials. Hong Kong is a great location for startups in the sustainability space, with supportive government policies, investment opportunities, a deep talent and ready access to growing markets."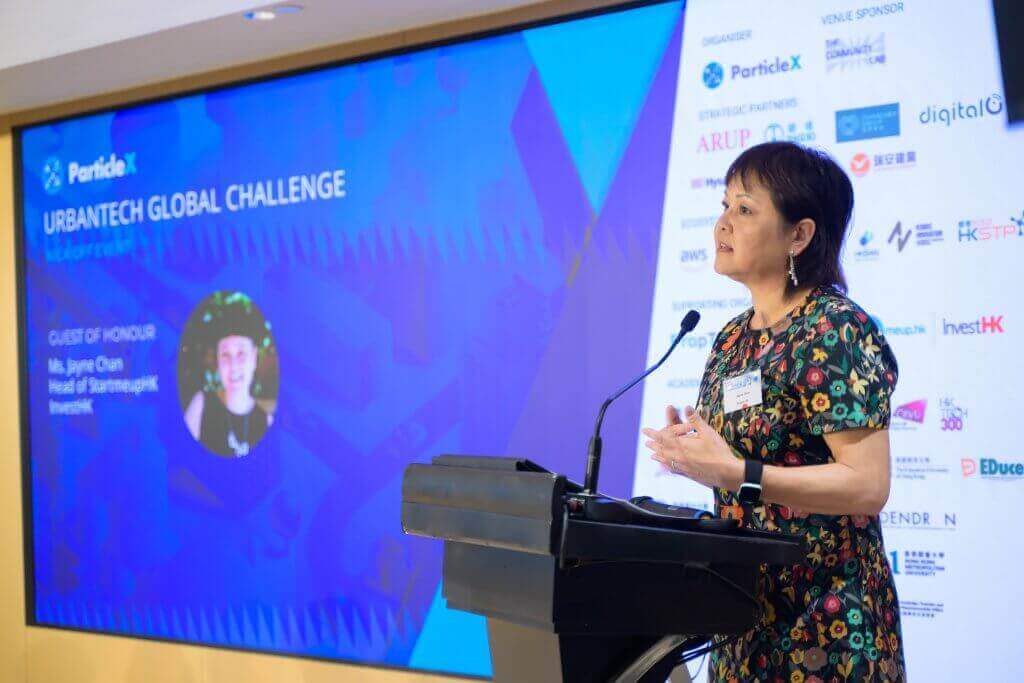 This year the PUGC targets on six core UrbanTech categories, these include 1) Real Estate & Built Environment, 2) Infrastructure, Energy & Utility, 3) Transportation & Mobility, 4) Food Supply, Public Health & Safety, 5) Circular Economy, Cleaning & Waste Management, 6) Lifestyle, Culture & Education.
PUGC applications are open until January 5, 2024. ParticleX will conduct initial screening by end-January to shortlist start-ups. Shortlisted start-ups will conduct pitching to the PUGC Investment Committee in March 2024. Successful finalists may win a chance to gain USD$200,000 minimum investment each. They will also get opportunities to partner with sizeable corporates in Hong Kong to test product or solution feasibility. This allows UrbanTech ventures to gather user feedback and real-world data to refine offerings in an efficient and cost-effective manner. The ultimate goal is to accelerate product adoption, business growth and social impact.
Apply and find out more about PUGC here: :https://particlex.com/pugc/
High Resolution photo HERE
About ParticleX
ParticleX (https://particlex.com) is a venture capital company that invests in early-stage technology start-ups, focusing on companies with robust business models and large Total Addressable Markets (TAM). Offering a suite of comprehensive services ParticleX provides funding, technology breakthroughs, strategic reinvention, and business matchmaking to support start-ups on their path to success.
Media Inquiry:
Prologue Communications | Yannis Ling
(6377 8087 / [email protected])