The first batch of ParticleX Urbantech Global Challenge (PUGC) applications closed in January 2023, and we were thrilled to receive an overwhelming response. We received 180 registrations through our application platform, and we are pleased to announce that 115 finalized applications from 33 regions were accepted as the first batch of candidates.
The PUGC is a multidisciplinary process that matches start-ups and corporations with angel investors and incubators. The challenge is seeking innovative solutions for both public and private sectors, as well as diverse stakeholders along the value chain. The challenge covers six key areas: Real Estate & Built Environment, Infrastructure, Energy & Utility, Transportation & Mobility, Food Supply, Public Health & Safety, Circular Economy, Cleaning & Waste Management, Lifestyle, Culture & Education.
After careful consideration, the top 16 finalists and 4 finalists were selected. The finalists will be invited to the Investment Committee Meeting with ParticleX and their strategic partners. The start-ups that attended the virtual interviews and few numbers of startups have also been identified for direct pairing with strategic partners, and will be contacted soon.
ParticleX would like to express our gratitude to all the participants who applied for the challenge. The PUGC is an important initiative that fosters the urbantech revolution, enabling cutting-edge technologies to solve urban challenges and improve the future of city life. ParticleX is committed to supporting innovative start-ups in this space and looks forward to continuing to drive positive change and impact in urban development.
Stay tuned for more updates on ParticleX's initiatives and developments in urbantech innovation.
Big congratulations to 4 Finalists: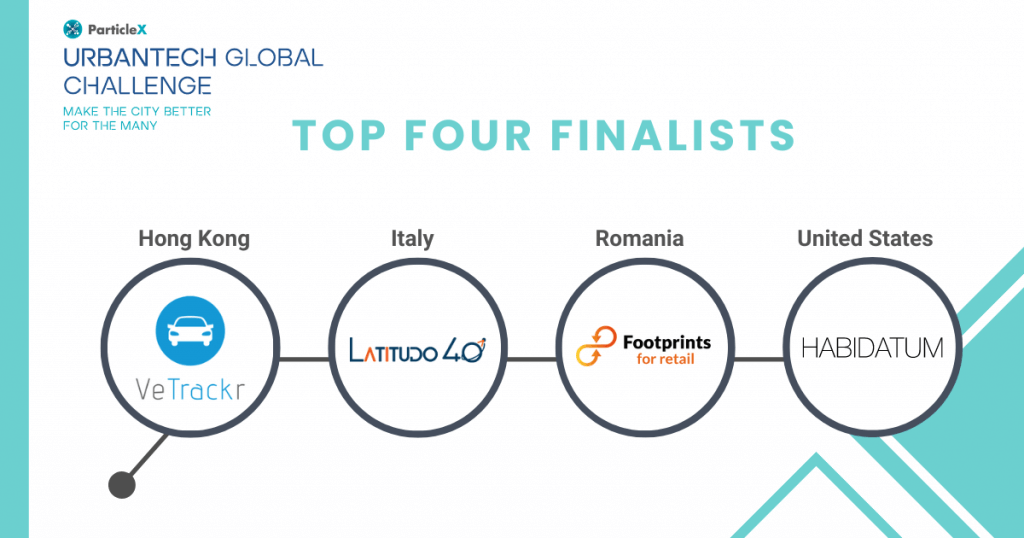 The Top 16 teams are listed below in alphabetical order according to their company name:
Alana AI, Brazil
Alana, a customer experience AI, can gather 10 years of social media data and create a Universal ID. On any digital channel, it automatically, personalized, and humanizes customer interactions.
BioMetallica, Singapore
Circular Platform technology for metal recycling at ambient temperature.
Embneusys, Greece
Ripos Platform is an environmental reporting platform for construction and mining companies.
Footprints AI, Romania
By collecting and analyzing data from 60% of active customers' mobile devices, it enables retail and real estate innovators to reach their customers (tenants) where it matters by understanding their micro-moments and assisting them in reaching the i-want-to-buy-moment in their purchase decision.
Green Vigor Limited, Hong Kong
A Hydropower Recycle System (HPRS) recycles daily the unused hydropower of a building. Green Vigor utilizes a structure's pumping system as a foundation and integrate with its patented water tank technology. To reduce carbon emissions, let's convert water into electricity.
Habidatum, United States
Hyperlocal data for real estate worldwide. Habidatum identify the opportunity, risk and resilience of real estate locations for real estate investors, lenders and insurers.
Kodifly Limited, Hong Kong
Mobility and transportation A.I., especially 3D perception and computer vision, accelerate smart city transformation. Computer vision, deep learning, and AI software analyze LiDAR and video camera images and 3D spatial data to improve transportation infrastructure maintenance, safety, and cost.
Latitudo40, Italy
Urban Data Platform uses SAR and optical satellite imagery to create a digital twin of the city, identifying trends (urbanization, green areas, heat islands, cooling capacity, Co2 sequestration) and environmental and hydrogeological risks.
Parafin, United States
Parafin instantly creates optimized building designs, budgets, and investment models for any site in seconds.
The Predictive Company, Spain
At TPC, we have developed an energy efficiency software based on artificial intelligence for non-residential buildings.
RC Labs Limited, Hong Kong
RC Labs designs and manufactures Intelligent battery management for electric vehicles and stationary energy storages. Our proprietary software and firmware along with our customizable and modular hardware sets us apart from the competition.
Sambo Group, Hong Kong
Energy-saving materials for green building, reducing heat and carbon
TENNTS, United States
TENNTS is a smart living technology connecting buildings, residents, and local businesses creating a trustful ecosystem surround each automated property.
TimelapseLab, Italy
AI-powered industrial devices for remote construction site management. Produce high-definition plug-and-play devices that are resistant to all critical issues and use a remote job management platform. TimelapseLab's neural network and data security software blurs faces, bodies, license plates, vehicles, and areas on the innovative platform.
UPAR, Singapore
The Android and iOS app UPAR lets drivers share information about vacant on-street parking spaces. App users can report vacated parking spaces. The App's algorithm will notify the nearest parking seeker, who will be able to reach the spot quickly thanks to geolocation and satellite navigation. Sharing information earns users App credits and bank account credits.
VeTrackr Limited, Hong Kong
FinTech and smart mobility startup collecting, analyzing, and storing driving behavior data to create business opportunities using insurance telematics, blockchain, and AI.